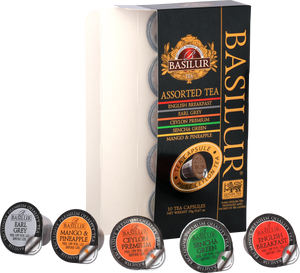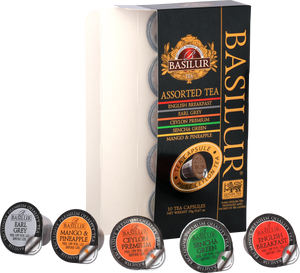 On Sale
Tea Capsules - Assorted (10 Capsules)
[10 Nespresso machine-compatible Capsules]
Non-GMO Swiss-patented microfiltration provides an excellent taste and a beautifully clear brew.
Reducing the brewing time by 90%, Basilur Tea capsules are Nespresso machine compatible. So now you are able to enjoy a fresh cup of tea with a touch of a button, convenient and hassle-free.
An assortment of 5 blends:
English Breakfast - A full bodied, robust and rich black tea blended to go well with milk and sugar, in a style traditionally associated with a hearty full English breakfast.
Earl Grey - A versatile Ceylon black tea enhanced with bergamot essence, brews up a distinctive, delicious flavour keeping the original characters in tact of this fine brew.
Sencha - Sencha green tea is characterized by its mellow pleasant flavour and rich yellow colour. Smooth and mild, this healthy brew can be consumed all day through.
Ceylon Premium - From the misty mountains of Ceylon's finest tea gardens comes this exquisite tea. A golden coloured tea with an enriched infusion to make this one of the worlds finest.
Mango & Pineapple - The luscious Mango and sweet Pineapple flavours complement the Ceylon black tea with a hint of passionfruit along with natural apple, making it a perfect afternoon delight.