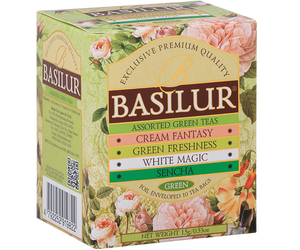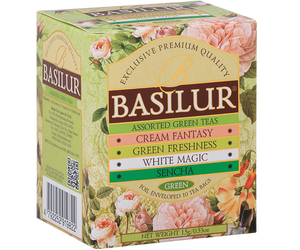 On Sale
Bouquet Assorted Green Tea - 10 Enveloped Tea Sachets
An assortment of 4 Bouquet teas - Sencha (Green Tea), Green Freshness (Mint Green Tea), Cream Fantasy (Strawberry & Cream Green Tea), and White Magic (Milk Oolong).
Sencha Green Tea is characterized by its mellow, pleasant flavor and rich yellow colour, achieved by gently steaming the leaves immediately after picking. Smooth and mild, this healthy brew can be consumed all day through.
Green Freshness - This connoisseur's delight of healthy green tea is masterfully blended with a touch of peppermint to give you a rich, sensual taste.
Cream Fantasy - A delightful experience of a very special green tea masterfully blended with the sweet, subtle flavours of berries and vanilla to create this sweet delight.
White Magic - An exotic blend of milky Oolong green tea, fragranced in the traditional age old method adding to an enchanting and delightful scent and flavour.
10 Foil Enveloped Sachets x 1.5g